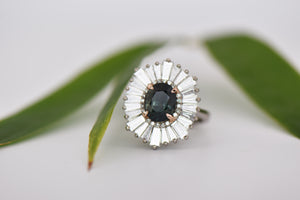 Australian sapphire and lab diamonds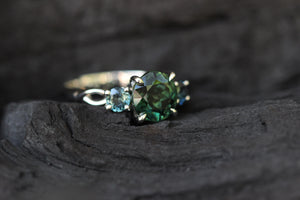 Teal green and teal blue Australian sapphires
Bespoke design-Unique to you
Jewellery and bespoke design are intrinsically entwined. Unlike other objects, jewellery often has a deeper meaning signifying a special event so we believe it's worth taking time to design a personal piece that speaks to its owner.
Working with our customers to create modern heirlooms is an honor we don't take lightly and it brings us great joy to see our pieces being worn and loved. Our head designer Ben Manning has over 20 years of experience designing and creating jewellery and with support from a highly talented team Utopian Creations are able to build upon your ideas to design timeless pieces to be cherished for generations. Examples and reviews of our work can be found on our website, Facebook and Instagram.
Customers receive a complimentary consultation for new projects. This will normally include either a meeting in person or email/s, phone calls and video call if necessary concerning what the project is and how we can be of assistance. It gives us a chance to get to know you and may include internet links, photos, a rough quote and some simple sketches, determined by the designer. In many cases this initial consultation will be enough to get the ball rolling.
Bespoke Design Package
Everybody is different and for many a consultation and some follow up conversations will be enough to form the basis of their design, however for others far more depth is needed and for these projects we have created our Bespoke Design Package. This package is part of a process we have evolved over many years to make designing a personal, quality, piece of jewellery an enjoyable and exciting process. If you are incredibly indecisive or are looking for a fast and more affordable route consider one of our stunning Ready to Wear pieces however if you love the idea of creating your own personal piece or a piece for a loved one we cant wait to work with you. Once we've got to know you and your expectations our knowledgeable team will guide you, providing you with multiple options and ideas to help bring out your perfect piece. The design is led by you through us with one stipulation, that the materials we use are responsibly sourced. 
If you have old family heirlooms or other gemstones or precious metals you'd like to remodel or use in your bespoke piece of jewellery please let us know when you book your consultation and bring them with you so we can evaluate and discuss your many options. 
complimentary consultation
To book your complimentary one-hour jewellery consultation please consult our calendar. For all other questions or queries please contact us and one of our experienced team will reply. Bespoke design is our passion and we're very excited to work with you.
Love the UC team